Alan Cooper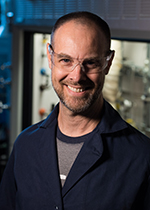 Pacific Northwest National Laboratory
PO Box 999
Richland, WA 99352
Send Email
Biography
Alan Cooper has been with PNNL since 2005 working on a variety of projects related to catalysis and the conversion of renewable feedstock to fuels and chemicals. He has worked extensively on combinatorial catalysis and has experience with batch reactors as well as lab-scale continuous flow reactors.
PNNL Patents
Research Interests
Catalysis and reaction engineering
Fuels from biomass and renewable feedstock
Reduction of environmental emissions and waste streams
Chemical processes that produce higher-value chemical intermediates from synthesis gases, sugars, and oils.
Education and Credentials
B.S. Chemistry, Washington State University
PNNL Publications
2018
Albrecht K.O., R.A. Dagle, D.T. Howe, J.A. Lopez-Ruiz, S.D. Davidson, B. Maddi, and A.R. Cooper, et al. 2018. Final Report for the Project Characterization and Valorization of Aqueous Phases Derived from Liquefaction and Upgrading of Bio-Oils. PNNL-27848. Richland, WA: Pacific Northwest National Laboratory.
Cai Q., J.A. Lopez-Ruiz, A.R. Cooper, J. Wang, K.O. Albrecht, and D. Mei. 2018. "Aqueous-Phase Acetic Acid Ketonization over Monoclinic Zirconia." ACS Catalysis 8, no. 1:488-502. PNNL-SA-112607. doi:10.1021/acscatal.7b03298
2017
Lopez-Ruiz J.A., A.R. Cooper, G. Li, and K.O. Albrecht. 2017. "Enhanced Hydrothermal Stability and Catalytic Activity of LaxZryOz Mixed Oxides for the Ketonization of Acetic Acid in the Aqueous Condensed Phase." ACS Catalysis 7, no. 10:6400-6412. PNNL-SA-123248. doi:10.1021/acscatal.7b01071
2014
Liu W., F. Zheng, J. Li, and A.R. Cooper. 2014. "An Ionic Liquid Reaction and Separation Process for Production of Hydroxymethylfurfural from Sugars." AIChE Journal 60, no. 1:300-314. PNNL-SA-88017. doi:10.1002/aic.14289
2002
Sundaram S.K., B.D. Macisaac, A.R. Cooper, C.H. Tschauner, and J.J. Holbrook. 2002. Evaluation and Testing of Noble Metals Surrogates. PNNL-13681. Richland, WA: Pacific Northwest National Laboratory.