Huamin Wang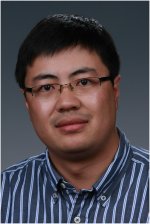 Pacific Northwest National Laboratory
PO Box 999
Richland, WA 99352
Send Email
Biography
Huamin Wang joined PNNL in 2011 after completing his postdoctoral researches at Lawrence Berkeley National Laboratory (LBNL) and U.C. Berkeley with Prof. E. Iglesia in 2011 and at ETH Zurich, Switzerland with Prof. R. Prins in 2008. He received his Ph.D. in Physical Chemistry and his B.S. in Chemistry in 2006 and 2001, respectively, from Nankai University, China. He has experience in studies of reaction mechanisms and kinetics of catalytic hydrotreating (HDS and HDN) reactions on metal and sulfide surfaces, hydrogen management during hydrotreating catalysis, as well as catalyst development and characterization. His research in PNNL involves catalytic pyrolysis of biomass and catalytic hydrotreating and upgrading of bio-oil during transformation of biomass to fuels and chemicals.
Research Interests
Conversion of biomass and renewable feedstocks to fuels and chemicals.
Catalytic hydrotreating of biomass and fossil derived fuel products.
Reaction mechanism and chemical kinetic of heterogeneous catalytic reactions.
Design, synthesis, and characterization of inorganic solids useful as catalysts.
Education and Credentials
Ph.D. Physical Chemistry, Nankai University, China
B.S. Chemistry, Nankai University, China
PNNL Publications
2017
Li Z, JS Choi,

H Wang

, AW Lepore, RM Connatser, S Lewis, H Meyer, DM Santosa, and AH Zacher. 2017.

"Sulfur-Tolerant Molybdenum Carbide Catalysts Enabling Low-Temperature Stabilization of Fast Pyrolysis Bio-Oil."

Energy and Fuels

31

(9):9585-9594.

doi:10.1021/acs.energyfuels.7b01707
2016
Wang H

, and Y Wang. 2016.

"Characterization of deactivated bio-oil hydrotreating catalysts."

Topics in Catalysis

59

(1):65-72.

doi:10.1007/s11244-015-0506-6

Wang H

, DC Elliott, R French, S Deutch, and K Iisa. 2016.

"Biomass Conversion to Produce Hydrocarbon Liquid Fuel Via Hot-vapor Filtered Fast Pyrolysis and Catalytic Hydrotreating."

Journal of Visualized Experiments

(118):Article No. e54088.

doi:10.3791/54088

Wang H

, SJ Lee, MV Olarte, and AH Zacher. 2016.

"Bio-oil stabilization by hydrogenation over reduced metal catalysts at low temperatures."

ACS Sustainable Chemistry & Engineering

4

(10):5533-5545.

doi:10.1021/acssuschemeng.6b01270

Choi JS, AH Zacher,

H Wang

, MV Olarte, BL Armstrong, H Meyer, II Soykal, and V Schwartz. 2016.

"Molybdenum carbides, active and in situ regenerable catalysts in hydroprocessing of fast pyrolysis bio-oil."

Green Chemistry

30

(6):5016-5026.

doi:10.1021/acs.energyfuels.6b00937

Jones SB, LJ Snowden-Swan,

PA Meyer

, AH Zacher, MV Olarte, H Wang, and C Drennan. 2016. Fast Pyrolysis and Hydrotreating: 2015 State of Technology R&D and Projections to 2017 .

PNNL-25312

, Pacific Northwest National Laboratory, Richland, WA.
Wan C, MY Hu, NR Jaegers, D Shi,

H Wang

, F Gao, Z Qin, Y Wang, and JZ Hu. 2016.

"Investigating the Surface Structure of ?-Al2O3 Supported WOx Catalysts by High-Field 27Al MAS NMR and Electronic Structure Calculations."

Journal of Physical Chemistry C

120

(40):23093-23103.

doi:10.1021/acs.jpcc.6b09060
2015
Elliott DC,

H Wang

, M Rover, L Whitmer, R Smith, and RC Brown. 2015.

"Hydrocarbon Liquid Production via Catalytic Hydroprocessing of Phenolic Oils Fractionated from Fast Pyrolysis of Red Oak and Corn Stover."

ACS Sustainable Chemistry & Engineering

3

(5):892-902.

doi:10.1021/acssuschemeng.5b00015

Schwaiger N, DC Elliott, J Ritzberger,

H Wang

, P Pucher, and M Siebenhofer. 2015.

"Hydrocarbon Liquid Production via the bioCRACK Process and Catalytic Hydroprocessing of the Product Oil."

Green Chemistry

17

(4):2487-2494.

doi:10.1039/c4gc02344g

Wang H, H Ruan, H Pei,

H Wang

, X Chen, MP Tucker, JR Cort, and B Yang. 2015.

"Biomass-derived Lignin to Jet Fuel Range Hydrocarbons via Aqueous Phase Hydrodeoxygenation."

Green Chemistry

17

(12):5131-5135.

doi:10.1039/C5GC01534K

Weber RS, MV Olarte, and

H Wang

. 2015.

"Modeling the Kinetics of Deactivation of Catalysts during the Upgrading of Bio-Oil."

Energy and Fuels

29

(1):273-277.

doi:10.1021/ef502483t
2014
Elliott DC,

H Wang

, R French, S Deutch, and K Iisa. 2014.

"Hydrocarbon Liquid Production from Biomass via Hot-Vapor-Filtered Fast Pyrolysis and Catalytic Hydroprocessing of the Bio-oil."

Energy and Fuels

28

(9):5909-5917.

doi:10.1021/ef501536j

Lercher JA, AM Appel, T Autrey, RM Bullock, DM Camaioni, HM Cho, DA Dixon, Z Dohnalek, F Gao, VA Glezakou, MA Henderson, JZ Hu, E Iglesia, AJ Karkamkar, BD Kay, GA Kimmel, JC Linehan, J Liu, I Lyubinetsky, D Mei, CHF Peden, RJ Rousseau, GK Schenter, WJ Shaw, J Szanyi,

H Wang

, Y Wang, and RS Weber. 2014.

"Multifunctional Catalysts to Synthesize and Utilize Energy Carriers."

In

Frontiers at the Interface between Homogeneous and Heterogeneous Catalysis, II

,

pp. 207-219

. U.S. Department of Energy, Office of Science, Washington, DC.
Liu C,

H Wang

, AM Karim, J Sun, and Y Wang. 2014.

"Catalytic fast pyrolysis of lignocellulosic biomass."

Chemical Society Reviews

43

(22):7594-7623.

doi:10.1039/c3cs60414d
2013
Wang H

, and Y Wang. 2013.

"BIOMASS TO BIO-OIL BY LIQUEFACTION."

Chapter 8 in

Biomass Processing, Conversion and Biorefinery

,

ed. B Zhang and Y Wang,

pp. 153-166

. Nova Science Publishers, Inc., Huntington, NY.

Wang H

, JL Male, and Y Wang. 2013.

"Recent advances in hydrotreating of pyrolysis bio-oil and its oxygen-containing model compounds."

ACS Catalysis

3

(5):1047-1070.
Laskar D, B Yang,

H Wang

, and GSJ Lee. 2013.

"Pathways for Biomass-Derived Lignin to Hydrocarbon Fuels."

Biofuels, Bioproducts & Biorefining

7

(5):602-626.

doi:10.1002/bbb.1422