Mark Butcher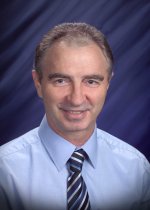 Pacific Northwest National Laboratory
PO Box 999
Richland, WA 99352
Send Email
Biography
Mr. Butcher joined Battelle in 1991 and is currently serving as a Senior Research Scientist on the Fungal Biotechnology Research Team of the Chemical and Biological Process Development Group. He is providing technical and management support to fungal biotechnology projects, which are focused on developing and improving biotechnology for production of biofuels and other bioproducts. His contributions include providing project and lab space management, input for proposals, technical publications and client reports, and making technical presentations. His business development responsibilities include sales and marketing, client relationship management, and conference exhibit management. Past accomplishments include co-inventing multiple-electrode corona discharge reactors for the treatment of aqueous wastes, co-designing micro-cell systems for testing liquid/liquid and gas/liquid separation technologies, designing bench-scale wastewater treatment reactors, and providing technical support to numerous bioremediation projects for soil and water contaminated with various chlorinated solvents, heavy metals, nitrate, and JP-4 fuel.
Research Interests
Biotechnology for production of biofuels and other value-added bioproducts
Bioremediation technology for contaminated soil and water
Education and Credentials
M.B.A./T.M., (Master of Business Administration/Technology Management), University of Phoenix B.A., Physical Geography (Geology minor), Eastern Washington University
PNNL Publications
2014
Jones SB,

Y Zhu

, DB Anderson, RT Hallen, DC Elliott, AJ Schmidt, KO Albrecht, TR Hart, MG Butcher, C Drennan, LJ Snowden-Swan, R Davis, and C Kinchin. 2014. Process Design and Economics for the Conversion of Algal Biomass to Hydrocarbons: Whole Algae Hydrothermal Liquefaction and Upgrading.

PNNL-23227

, Pacific Northwest National Laboratory, Richland, WA.
2009
Baker SE

, KS Bruno, MG Butcher, JR Collett, DE Culley, Z Dai, JK Magnuson, and EA Panisko. 2009. PNNL Fungal Biotechnology Core DOE-OBP Project.

PNNL-18820

, Pacific Northwest National Laboratory, Richland, WA.
2008
Stewart CW, CE Guzman-Leong, ST Arm, MG Butcher, EC Golovich, LK Jagoda, WR Park, RW Slaugh, YF Su, CF Wend, LA Mahoney, JM Alzheimer, JA Bailey, SK Cooley, DE Hurley, CD Johnson, LD Reid, HD Smith,

BE Wells

, and ST Yokuda. 2008. Results of Large-Scale Testing on Effects of Anti-Foam Agent on Gas Retention and Release.

PNNL-17170

, Pacific Northwest National Laboratory, Richland, WA.
Valentine NB, MG Butcher, YF Su, KH Jarman, MM Matzke,

BJM Webb-Robertson

, EA Panisko, BAB Seiders, and KL Wahl. 2008.

"Evaluation of Sampling Tools for Environmental Sampling of Bacterial Endospores from Porous and Non-porous Surfaces."

Journal of Applied Microbiology

105

(4):1107-1113.
1999
TeGrotenhuis WE, RJ Cameron,

MG Butcher

, PM Martin, and RS Wegeng. 1999.

"Microchannel Devices for Efficient Contact of Liquids in Solvent Extraction."

Separation Science and Technology

34

(6-7):951-974.