Shuang Deng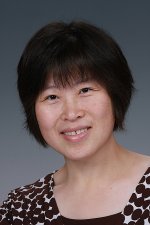 Pacific Northwest National Laboratory
PO Box 999
Richland, WA 99352
Send Email
Biography
Dr. Deng has over 14 years of experience in molecular biology. Dr. Deng got her Ph.D degree from Department of Biochemistry & Molecular Genetics in University of Alabama at Birmingham in 2004. Her thesis work studied bacterial chromosome structure, dynamics, gene regulation and functional genomics in Escherichia coli and Salmonella typhimurium. Dr. Deng joined PNNL in 2006 after working for two years as research associate at University of Alabama at Birmingham.
PNNL Patents
Research Interests
Utilizing filamentous fungi for converting renewable biomass to fuels, chemicals and enzymes.
Discovery of genes important for biosynthetic pathways.
Strain improvement with higher productivity and the use of alternative substrates, which may reduce costs and conserve environment.
Education and Credentials
Ph.D., Biochemistry and Molecular Genetics, University of Alabama at Birmingham
M.S., Clinical Pharmacology, Sun Yat-sen University
B.S., Clinical Medicine, Zhengzhou University
PNNL Publications
2019
Pomraning K.R., J.R. Collett, J. Kim, E.A. Panisko, D.E. Culley, Z. Dai, and S. Deng, et al. 2019. "Transcriptomic analysis of the oleaginous yeast Lipomyces starkeyi during lipid accumulation on enzymatically treated corn stover hydrolysate." BMC Biotechnology for Biofuels 12. PNNL-SA-142743. doi:10.1186/s13068-019-1510-z
2018
Deng S., K.R. Pomraning, P. Bohutskyi, and J.K. Magnuson. 2018. "Draft Genome Sequence of Aspergillus oryzae ATCC 12892." Genome Announcements 8, no. 18:Article No. e00251-18. PNNL-SA-132840. doi:10.1128/genomeA.00251-18
2017
Dai Z., S. Deng, D.E. Culley, K.S. Bruno, and J.K. Magnuson. 2017. "Agrobacterium tumefaciens-mediated transformation of oleaginous yeast Lipomyces species." Applied Microbiology and Biotechnology 101, no. 15:6099-6110. PNNL-SA-123451. doi:10.1007/s00253-017-8357-7
2014
Qu Y., J. Feng, S. Deng, L. Cao, Q. Zhang, R. Zhao, and Z. Zhang, et al. 2014. "Structural Analysis of N- and O-glycans Using ZIC-HILIC/Dialysis Coupled to NMR Detection." Fungal Genetics and Biology : FG & B 72. PNNL-SA-101957. doi:10.1016/j.fgb.2014.08.001
2013
Tamano K., K.S. Bruno, S.A. Karagiosis, D.E. Culley, S. Deng, J.R. Collett, and M. Umemura, et al. 2013. "Increased Production of Fatty Acids and Triglycerides in Aspergillus oryzae by Enhancing Expressions of Fatty Acid Synthesis-Related Genes." Applied Microbiology and Biotechnology 97, no. 1:269-281. PNNL-SA-86701. doi:10.1007/s00253-012-4193-y
2008
Shi L., S. Deng, M.J. Marshall, Z. Wang, D.W. Kennedy, A. Dohnalkova, and H.M. Mottaz, et al. 2008. "Direct Involvement of Type II Secretion System in Extracellular Translocation of Shewanella Oneidensis Outer Membrane Cytochromes MtrC and OmcA." Journal of Bacteriology 190, no. 15:5512-5516. PNNL-SA-55117. doi:10.1128/JB.00514-08