Tim Bays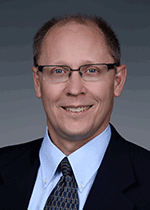 Pacific Northwest National Laboratory
PO Box 999
Richland, WA 99352
Send Email
Biography
Following his graduate work at the University of Idaho, Dr. Bays was a postdoc at PNNL, working on alkane oxidation under Dr. Donald Camaioni, and under Dr. John Linehan he examined organometallic species using time-resolved, step-scan FTIR. He departed PNNL in 1997 to accept a position as a faculty member at the United States Military Academy at West Point, NY. Dr. Bays taught general and advanced freshman chemistry, as well as organic and inorganic chemistry. He conducted research on the effects of increased carbon dioxide levels on marine microorganisms. Following his promotion to Associate Professor, Dr. Bays relocated to PNNL. Since his arrival in 2005, Dr. Bays has filled a variety of roles from researcher to project manager. He is currently an individual contributor to an Office of Vehicle Technologies Unconventional Fuels Project. Prior to his career in chemistry, Dr. Bays served on active duty with the US Navy from 1987-1992, and has since served as a drilling Navy Reservist, in a variety of units, most recently with the Office of Naval Research. During 2009-2010, Dr. Bays was mobilized by the Navy to Baghdad, Iraq as a member of General Raymond Odierno's (Commanding General, United States Forces –Iraq) staff, where he served as a liaison between the US Embassy, the CG and the Government of Iraq.
PNNL Patents
U.S. Patent No. 9,259,708, February 12, 2016, "Device and Method for Enhanced Collection and Assay of Chemicals with High Surface Area Ceramic".
U.S. Patent No. 8,943,910, February 3, 2015, "Enhanced Surfaces Sampler and Process for Collection and Release of Analytes".
Research Interests
Unconventional fuels, diesel, gasoline, and jet fuels; lubricants, sorbent materials, NMR, trace detection and analysis and homogeneious catalysis.
Education and Credentials
Postdoctoral Research Associate, Alkane Oxidation and Supercritical Fluid Photochemistry, Pacific Northwest National Laboratory
Ph.D., Organometallic Chemistry, University of Idaho
B.S., Chemistry, United States Naval Academy